Intelligent liquid crystal film
– modern privacy management
One second, one click and the glass wall of your office or the huge window in the living room turnes into milky white. You gain full privacy, and the space that surrounds you preserves modern, designer character, obtained through the use of glass.
Magic? No – technology. This effect is guaranteed by the SONTE intelligent liquid crystal film. Be amazed by its possibilities and join the revolution in privacy management!
How does liquid crystal film technology work?
Intelligent liquid crystal film, also known as Digital Shading Technology or PDLC film is made of liquid crystals sandwiched between two layers PET film. Under the influence of the voltage from the power supply, the liquid crystals arrange themselves in a regular way, creating a transparent pane. When you turn off the power, they change their arrangement irregular, and the glazing becomes milky white: matt and non-transparent.
SONTE film control:
You can control the SONTE matting film in several ways:
using a wall switch,
easy-to-use remote control,
after integrating with the BMS/BAS or Smart Home system.
We also offer the ability to gradually change the transparency – for this a dimmer is used.
Possibility to configure SONTE film
Replace heavy curtains or irritatingly jammed blinds with a modern, convenient to use liquid crystal film. This is a solution that fully uses its potential modern technologies – just one click and the PDLC film turns from transparent in milky white, ensuring your privacy. It also guarantees great visual effects: gives the space a modern, designer character.
Choose your color
The classic color of the matting film is white, but you can also order gray and black as well the multicolored SONTE Disco option, which shimmers with all the colors of the rainbow. For special upon request, we are able to produce the film in a selected color variant.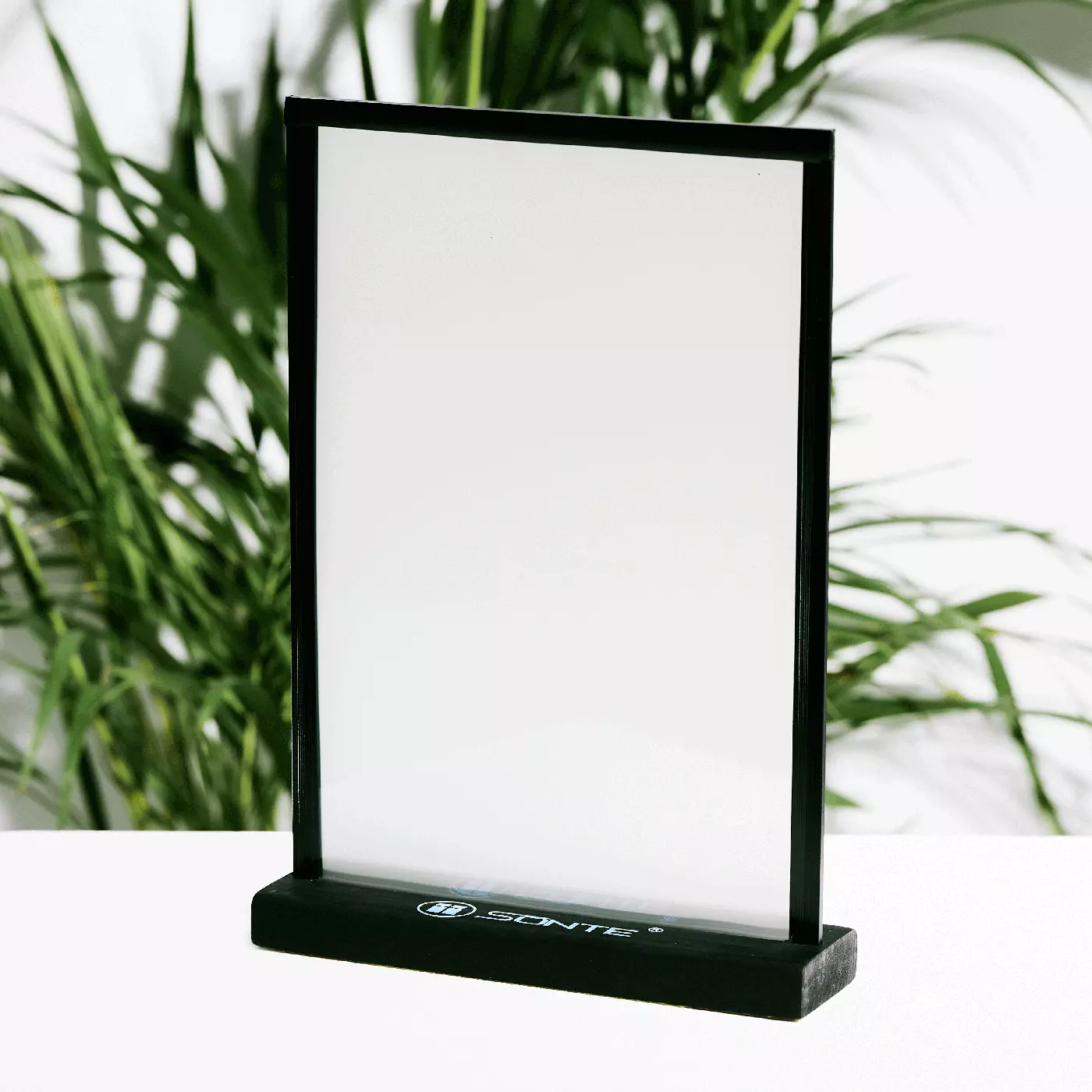 … and shapes
The SONTE film can be installed on any glazing, also custom. At the customer's request, we can make a logotype or obtain it digital blinds effect.
for every surface
The intelligent liquid crystal film can be instaled on single glazing or double glazing. It is mounted on all-glass, sliding, swinging and other doors aluminum frame, on turn windows, HS and HSW, as well as on glazing with a large of space – both in homes and offices, hotels, utility buildings public or commercial premises.
Start THE REVOLUTION!
We will answer all your questions and help you start a revolution in privacy management.
Liquid crystal film – learn about its advantages
Easy to use, easy to maintain, cheap to operate. Functional and suitable the WOW effect. Replace heavy curtains or irritating jamming blinds with liquid crystals and take full advantage of the potential of modern technologies!
The liquid crystal film guarantees a fantastic arrangement effect: it gives the interiors modern character, emphasizing designer style of the home and professional office decor. At the same time, it is distinguished by a slight thickness, so it affects little transparency of windows or glazing.
Click and you turn on privacy
SONTE liquid crystal film reaches full transparency in just 0.1 seconds. Is also cheap in operation: power consumption calculated for 1m2 of SONTE film is only 5.5 W/h, which is about as much as your TV consumes in sleep mode.
SONTE liquid crystal film is completely safe – it meets all standards non-flammability and can be installed on fire-resistant glazing. Safety is confirmed by relevant certificates.
SONTE windows are trouble-free in everyday use, and their care does not require any special treatments – just clean them as usual each glazing, i.e. with glass cleaner and a microfiber cloth.
SONTE matting foil, thanks to the use of high-quality crystals, blocks up to 99% UV radiation, as well as 95% of IR (infrared) light, thanks to which it prevents heating rooms on hot days and protects users from harmful effects the sun's rays.
Assembly of the liquid crystal film
Throughout the process of selecting and purchasing a smart liquid crystal film, SONTE will support you Your dedicated sales guide: will present the possibilities, prepare a quote and will arrange the assembly. Installation of the film can take place at any time. Our teams assembly workers work in the evenings and on weekends.
We understand that your peace of mind is important, which is why we offer an extended warranty for 40 months – giving you additional confidence and trust in our product.SONTE customer service team always available if you need help.
How to start a REVOLUTION?
We realize this may seem very complicated. Don't worry! We will take care of literally everything. This is how it works!
Contact
Get in touch! We will allocate you a dedicated trader who will help solve your problems.
Quote
A dedicated trader will prepare an offer tailored to your needs.
Installation
Installation of your Sonte film by our qualified installers.